Dragon City Apk is a social simulation game in which you have to build a hottest dragon magical city, where you have to breed dragons, grow them, provide food, sleep, roaming area, and protection and prove yourself to be the top Dragon Master in the world.
Dragon City APK (Latest Version)
It is the best simulation game with different elements and the most famous strategies you ever played. The Dragon City Game is developed by SOCIAL POINT, which targets the mid-core players. This game can be played on Facebook, Android, iOS, and windows.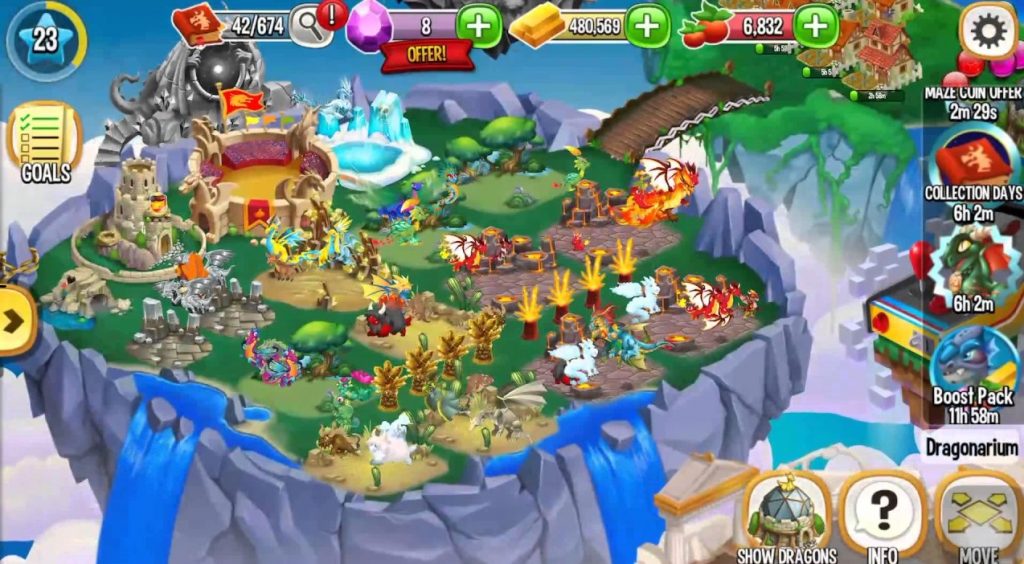 Dragon City allows players to build a beautifully designed city on floating islands. Players can decorate the whole city according to their needs and interest. For dragons to live in, players will have to build a habitat for breeding and for growing them they will have a farm for food, house for sleeping and tons of dragons to make that place a city.
Treat your dragons well, feed them and evolve them into a stunning creature. Through this, you can expand your collection and can easily battle in P2P Arenas. You can upgrade your habitat from Dragon City Tokens.
Dragon City Players also love to play
Minecraft
FEATURES
Collect 100s of Dragons
Firstly, from collections pick dragons, take care of them, train them, provide every necessity you can. You can train up to 100 different Dragons at a time. In addition, the game is upgraded every week so, the number of dragons available grows.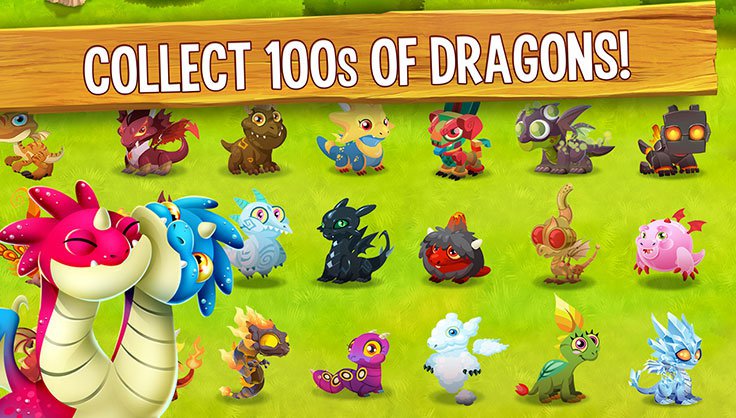 Players can breed accordingly by combining different dragons (element dragon, cool fire dragon, double Terra, etc) and can get different species from them with the characteristics the same as parents. Dragons are divided into different elements like fire, water, earth, thunder, nature, etc. For breeding, you can purchase Ultra Breeding Tree or anything with gems from the store.
After breeding put the eggs in the right habitat to facilitate hatching. Cute baby dragons will hatch from eggs. After hatching, take good care of baby dragons, train them and make them Master of Land. And you can also collect dragons from events occurring in this game. You can check your dragon list in your Dragon Book.
Dragon City Tower
You can unlock Dragon City Towers and can easily connect them with your dragon city islands which became beneficial for you as a player in many different ways. Now you have to pay Gems for this. But in future developers are trying something new and beneficial for you. So, stay tuned…..
The main goal of Dragon City Apk is to train your dragons Hard so that they can easily compete with the players online. By combining different species of dragons you can easily beat the rest of dragons in Dragon City universe and can be the Top Dragon Master.
Join your army with other Dragon Masters with alliance by interacting with each other in chat menu, trade orbs, participate in different events and can easily unlock different rewards.
Let's take above as a medium to understand what Dragon City Apk is all about. You can download Dragon City apk latest version from our website and get 100% guaranteed access to the game. This game is also for android 1, iOS, iPhone, PC and windows.
Features of Dragon City Apk
Features of Dragon City Apk
To make your dragon city grow, there are over 1000 different dragons for breeding.
This game upgrades every week. So, do not miss the adventure on your way.
Compete with your friends online and show your dragon powers.
Customize your dragons during special events.
Adventure yourself through dragon Quests and play with other dragon masters to collect different kinds of dragons, chat with them, trade orbs in a trading hub, etc.
Collect orbs in trading hubs for dragons and notice your dragon's strength on the battlefield.
Build a magical city that other competitors will envy!!!!
Unlock different features like the Ancient World.
Log in with windows and take your dragons everywhere.
Limitless fun with different missions.
Note: You can increase Gems & Gold by using Dragon city gems hack
Also enjoy this game on android, iPhone, tablets as well as on Facebook.
Requirements
As Dragon City Apk is an online game so, the minimum requirement includes internet connection, mobile/tablet/PC. The minimum requirement of software for android is 4.1 and up and for iOS it is 5.0 and up. It is rated for kids with 3+ years.
How to Download/Install Dragon City Apk?
If you love dragons and want to raise them or wished to live in a dragon land on a floating island then download this game and enjoy it. For downloading, follow the instructions below.
Open our website.
Press the download button.
The file will start downloading.
For Installing Dragon City Apk, follow the below-given steps.
Go to Settings and Click on Security Button.
Allow installation from Unknown Sources.
Now open the downloaded file.
Click on that file, you will see an option of installing the file.
Click on Install Button for further progress.
After completion of that process, you will be given two options DONE or OPEN. Just click on the DONE button.
After successful installation, open Dragon City Apk and get Started.
What's New in Dragon City Apk?
Part of an Alliance?
Power in your hands!!!!
Try out this brand new Beta release of the missing Dragon rescue.
Select the dragon of your choice to rescue to complete collections or Empower your favorite!
Dragon rescue keys will stay with you from one rescue to another.
Lots of common dragons await! More rarities Coming Soon.
Dragon Book bug fixes also mean your Empowerment stars are back.
Dragon City Application File Information
General FAQ'S
Does Dragon City need WIFI?
Yes, it did. Because it is an online game.
Can we play Dragon City Apk offline?
You can play this game offline if you are not interested in its social features(online leaderboard, Facebook connection).
What kind of Dragon is my egg?
It is very fun to know what kind of dragon is in that egg. You can get an idea from the egg's color and design. The egg follows the same pattern as dragons inside them.
How do I breed a hybrid?
Mix two single Element dragons together.
Why can't I buy space on other islands?
Before purchasing a plot, the right to cross another island must be purchased. This will cost gold or gems depending on the island you purchased.
How long should my dragon take to hatch?
Hatch time depends on the type of dragon you are hatching.
Final Verdict
Dragon City Mod Apk is a very interesting and fantasizing game with colorful eye-catching 3D graphics. This game allows you to raise dragons of your choice according to your will and train them accordingly. In short, you will have to do all the stuff that parents do for their kids. If you love cute Dragons and want to take care of them then do not miss this beautiful game.
This game is loved not only by children but teens also love to play this. So, I recommend you to play this game for pleasure.